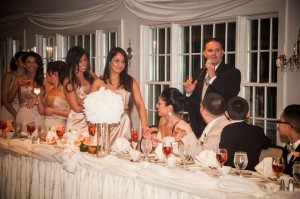 Jason Mello is one of the SouthCoast's premier disc jockeys. Jay has over 30 years of experience beginning when he assisted his dad, Dick Mello, a wedding photographer and DJ. Since then, he has provided entertainment for thousands of weddings, anniversaries, birthday parties, dances, proms, banquets and corporate events from Newport to Providence, Boston to Cape Cod and just about everywhere in between.
Jason takes great pride in providing his clients with a diverse collection of music which allows him to set the desired atmosphere for any occasion. His primary objective is to assist you in making your event both special and memorable.
Jay was born in 1971 to Richard and Pat Mello. He grew up in New Bedford and has resided there most of his life. He attended New Bedford Public Schools until he transferred to Old Rochester Regional High School from which he graduated in 1989. He has been an avid traveler in past years enjoying his favorite spots around the Caribbean and Mexico. His hobbies include fishing, golf, aviation and sports, especially basketball. Jay has been a volunteer coach for the New Bedford High boys Varsity basketball team and also serves the team's public address announcer. He is active in the Knights of Columbus as a 3rd Degree Member participating in many public service events.
Jason's father Richard J. (Dick) Mello was a prominent wedding DJ and photographer in the 70's and 80's.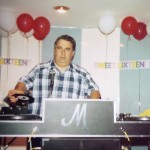 He and his wife Patricia owned Hearthside Photography in New Bedford. Mr. Mello taught art in the Old Rochester Regional School District for 40 years, 30 of which he spent at the Junior High until his retirement in 2002. Pictured here, he was a favorite at weddings and dances in the area including the popular Mattapoisett Wharf Dances at which he spun records for nearly 20 years. Jay then took over and DJ'd the dances until he stopped doing them in 2011.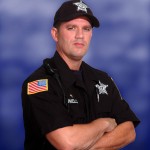 Jason was a Corrections Officer for 20 years working for the Bristol County Sheriff's Department. He starting at the age of 18 in 1991 and retired in 2011. He learned to appreciate commitment, dedication and teamwork. Jay was a decorated officer receiving commendations for life-saving and his service to the citizens of Bristol County and the Commonwealth of Massachusetts.
Jay was married in August of 2011 in Raynham to the former Nicole Morey. They reside in New Bedford and welcomed their first child, Brooke, on November 22, 2013. They look forward to many years of health and happiness together.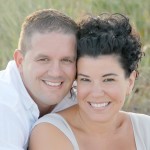 Jason is also the proud father of Alexis Mello who is 26 years old and currently a Senior at Rhode Island College  studying radiology. Lexi aspires to be a radiology Technician upon graduation. Jay's younger daughter, Brooke is 7 years old and in the 1st grade and has a bright future ahead of her as well!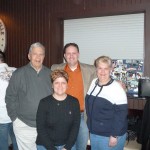 Pictured here are Jay's parents, Richard & Patricia, and sister, Sara. Jay's mom was once a telephone operator and also worked for ten years as the receptionist at Old Rochester Regional Junior High until her retirement in 2006. Sara has been an elementary music teacher for the New Bedford Public Schools for the past 27 years. She was the band director at New Bedford High School for several years. Sara is a professional musician and has also been performing as a DJ for Jason for the past eight years at various events and weddings.